Installation & Maintenance
Irregular, Kidney, or Round Shaped Inground Pools
Installing a Rocky's Reel System is quick and easy. Please select your style of swimming pool below for in depth directions for that specific type of pool. If you have any questions please feel free to contact us.
Ideal Reel Placements For A Variety Of Irregular In Ground Shaped Pools
Please see our instructional video library for step by step installation guides for both above ground or in ground pools.
How To Cut And Attach Your Cover
Step 1
Open cover over the pool and set into position. Ensure that the end of the cover (where it attaches to the roller) is square to the roller.
If the cover has seams, then the seams should be parallel to the roller. (This may not be possible with some types of covers.)
When cutting the cover, allow a 1 1/2″ wide border around the pool edge to compensate for shrinkage.
Step 2
Attach the cut cover to the roller with the blue straps (see grommet detail). To prevent wind from getting under the cover ensure length of strap allows cover to lay flat on pool. Some styles of in ground swimming pool require you to have the reel over the water in order to roll the cover up as evenly as possible. If this is the case on your pool you will need to attach the straps by folding the cover so it has a ridge. You can then attach the grommets and strapping to the ridge so that it picks the cover up in the middle.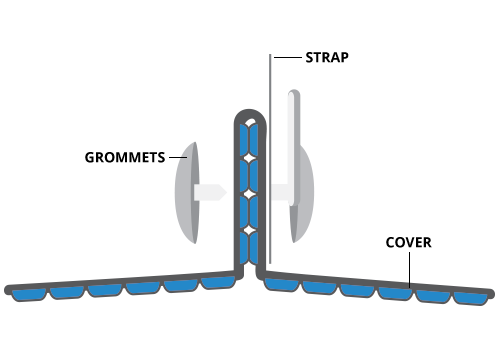 Instructional Videos
Instructions
Installation Support
I bought a plastic unit and it fell apart in two seasons, so I upgraded to a Rocky's for a few dollars more and its lasted for eight seasons and still looks great.

California