Installation & Maintenance
Irregular Shaped In ground Pools
Installing a Rocky's Reel System is quick and easy. Please see our instructional videos for a step by step installation guide.
Irregular Shaped Pool
Place your reel at the widest point of the pool. This will allow you to roll up the bulk of the cover without having to run long, varying lengths of strapping from the cover to the tube. This also minimizes the need to fold sections of your cover over on itself. Hang your straps straight down from the reel and attach them by folding the cover and putting the grommets through the fold and strap (pictured below). The smaller section of cover will roll up at the same time as the bulk of the cover and float back into place when you put the cover back on your pool.
Over time solar covers develop a memory and the cover will float into place by itself, the first few times you might have to help guide it into place. As irregular or lagoon shaped pools vary drastically from pool to pool you might have to fold multiple sections of the cover to ensure an even roll up. The goal is to be able to reel it in without any sections of the cover catching on the edge of the pool. For help with a specific shape of pool please contact us and our team can help guide you in the right direction.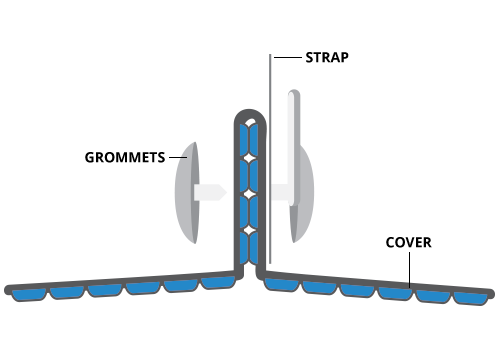 Six years after I bought a Rocky's, I had a small warranty issue with my reel. The friendly staff made the warranty process completely painless and I got my replacement part free of charge.

Florida